Signature micro-markets for the New York City area

Every safety protocol at every visit
Tangelo technology provides guidelines and visual verification of trusted health and safety protocols.
Subsidize food for greater rewards
Earn employee appreciation with one of our micro-market subsidy programs. Pay for all or part of the micro-market product cost so employees enjoy a discounted price. This makes staff feel appreciated, transforming the break room into a retention tool in addition to a workplace perk. Companies can also use this on a specific product category to encourage healthier eating or on a per employee basis for meeting corporate goals.
Top-notch service for workplaces large and small

Germ elimination
Enjoy touchless payment options with credit and mobile wallets that keep germs from spreading.

Always open
Marche's self-checkout kiosk allows employees to use the micro-market 24 hours a day.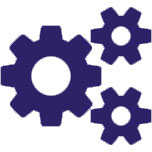 Automated restocking
Smart technology in the micro-market creates real-time restocking lists without the need for ordering.

Self-contained security
Reliable, high-definition cameras on a dedicated internet source secure the entire micro-market.
Entice employees with a professional break room experience